Today we want to talk you about something we're gonna do for sure in the next few days, more precisely form 31 October to the 5 November: we're gonna stroll about in Macerata and we will enjoy the very first edition of "Viaggi Fotografici Minimi".
Even thought we love the seaside and the beach even during the fall and on these chilly and grey days that have finally arrived we love more to see new things and also to see Macerata all dressed up for this event.
Viaggi Fotografici Minimi is born from the passion for photography of their creators (Noemi and Alessandro of the wonderful emporio Ultrafragola – a place we will tell you abount in these pages very soon! – Giulio Contigiani and Costile), it takes inspiration from the big and successful photography festivals like Reggio Emilia or Arles but also doesn't forget its strong connection the territory and its memory. It is a Festival that combines the passion for the art of photgraphy and deep love for the town and the territory.
The subject of this first edition is "Abandoned places and rediscovered territories" and there will be exhibitions, meetings, performances, installations in different places of the city centre of Macerata. It will be a wonderful occasion to see Macerata with new eyes.
Here below you'll find part of the program and the links you may follow to see something about the artists and the places where Viaggi Fotografici Minimi will be:
Magazzini UTO:
Retrospective CARLO BALELLI "I luoghi dell'anima" ("Soul's places")

MERCATO DELLE ERBE:
Lorenzo Cicconi Massi
Bartolomeo Eugenio Rossi
Noe Alonzo
Martina Aliprandi
Lorenzo Zoppolato
Giulia Zazzi
Mauro Talamonti
Alena Zhandarova
and the participants to the contest "Persi di Vista" 
Duma:
Elena Amabili
Alessandro Calvaresi
in Soviet Innerness
Here is the Facebook of Viaggi Fotografici Minimi
https://www.facebook.com/ViaggiFotograficiMinimi/
Instagram
https://www.instagram.com/viaggifotograficiminimi/?hl=it
See you in Macerata from 31 October to 5 November for the first edition of  Viaggi Fotografici Minimi – Piccolo Festival di Fotografia
Because to travel sometimes all you need is an open heart and new eyes, so you can rediscover all the wonderful things we are surrounded by and that unexpectedly we carry within ourselves.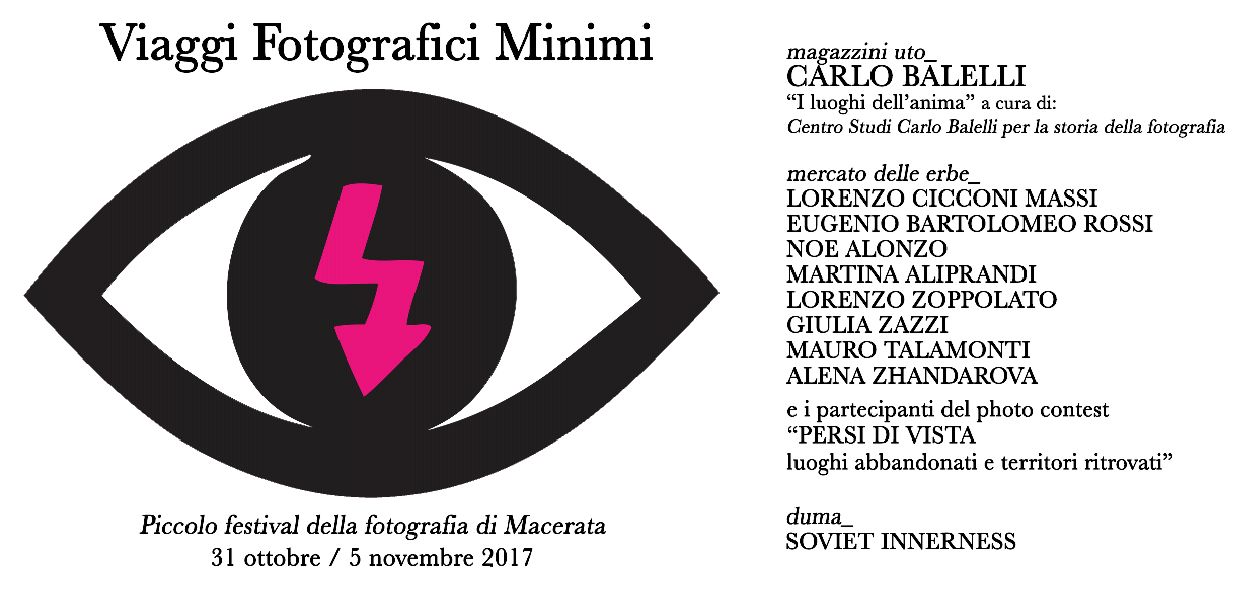 ♥